Bau Nyale Festival will be held in Kuta Lombok between 24th – 25th February 2019. The dates change from year to year and are dependant on village elder's calendar calculation – the dates are based on the 19th day, of the 10th month of the Sasak Calendar (usually February or March).
Bau Nyale Festival sees flocks of people heading to the sea during the early hours of the morning to catch (Bau) sea worms (Nyale) which appear just once a year and are believed to have magical properties, bringing about good fortune.
Legend has it that the sea worms are a reincarnation of the incredibly beautiful Princess Mandalika who lived during Lombok heydays of Kings and Queens. Talk of the Princess' beauty soon spread across the land, and Princes from all over the island fell in love with her. Competition was rife, upset and turmoil flooded the island. The Princess, upon seeing this, was upset, and longed for peace. The princess gave herself to the ocean by diving into the sea, onlookers tried to save her but all they found in her place were an abundance of coloured sea worms. From then on, these worms were known as Nyale. Sasak people believing these worms were a reincarnation of the Princess, who pays a yearly visit to her people.
The festival is no longer just a Sasak tradition, but has since grown into a larger event, where you can see a variety of Sasak and Indonesian traditions in action.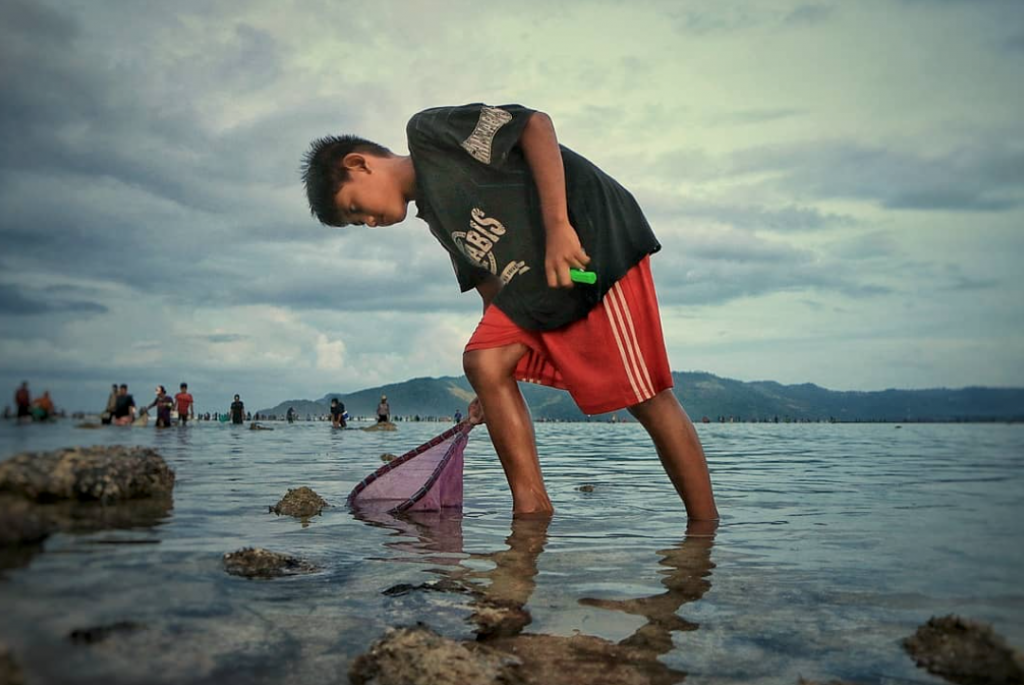 Last year the festival featured:
Horse racing
A parade with colourful costumes
Princess Mandalika beauty pageant
Peresean (Stick fighting)
Surfing and beach volleyball competitions
Beach cleaning
Selfie competition
Live bands
Many many many different types of food (Sasak people LOVE to eat together)
Finally after all these festivities, everyone goes to the beach (early morning) to collect the sea worms
The event never seems to have a set itinerary, or at least information is ALWAYS conflicting or perhaps badly publicised. If you'd like to experience this evert, our best advice for you is to stay in Kuta during its entirety and ride a scooter down at the start of the festival, keeping your eyes peeled for the different crowds of people which symbolise events, asking locals as you go.
Expect heavy traffic, hustle and bustle. Which isn't actually as bad as you would imagine, because you can play a game of spot the bike carrying the most people.
Here's two photo essays that do a very good job of visually depicting the essence of the days: